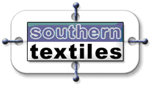 Bed Linens by Southern Textiles:
Southern Textiles remains one of the most widely recognized bed linen producers among buyers and merchandise managers at retail furniture stores, sleep shops and catalogue/ direct mail accounts due largely to our wide distribution, excellent reputation for customer service, innovative design and product value.
Southern Textiles offers a unique no hassle no inventory direct ship program to deliver bedroom linens and packages straight to the consumer's home with little or no investment.
Southern Textiles are committed to becoming your total linen source.
---
Daybeds: Ambrose Falls by Southern Textiles

Daybed Ensemble includes:
5-piece Daybed Ensemble (includes Comforter, Bed skirt, and 3 standard shams).

Dimensions:
Comforter 55x97.

Beautiful autumn colors highlighted by a woven paisley comforter with lime greens, golds, blues, and orange spice.

Size: Twin
UPC: 80JQ400AMB

MSRP $269.99 On Sale $229.99
Daybeds: Braxton by Southern Textiles

Daybed Ensemble includes:
5-piece Daybed Ensemble (includes Comforter, Bed skirt, and 3 standard shams).

Dimensions:
Comforter 55x97.

A cottage feel with bright crisp lime greens, yellows, and cool blues with a plaid comforter and bed skirt of coordinating stripes and solids.

Size: Twin
UPC: 80JQ400BXT

MSRP $269.99 On Sale $229.99
Daybeds: Brendan by Southern Textiles

Daybed Ensemble includes:
4-piece Daybed Ensemble (includes Comforter, Bed skirt, and two King shams).

Dimensions:
Comforter 55x97.

A comfortable classic blue square and stripe pattern combined with a natural twill bed skirt.

Size: Twin
UPC: 80JQ400BND

MSRP $209.99 On Sale $179.99
Daybeds: Bridges by Southern Textiles

Daybed Ensemble includes:
4-piece Daybed Ensemble (includes Comforter, Bed skirt, and two King shams).

Dimensions:
Comforter 55x97.

A simple ensemble consisting of woven fabrics in solid saddle tan and black.

Size: Twin
UPC: 80JQ400B2

MSRP $209.99 On Sale $179.99
Daybeds: Butterflies by Southern Textiles

Daybed Ensemble includes:
5-piece Daybed Ensemble (includes Comforter, Bed skirt, and 3 standard shams).

Dimensions:
Comforter 55x97.

A whimsical montage to please any little girl with butterflies and flowers with vibrant purples, oranges, greens, and yellows.

Size: Twin
UPC: 80JQ400BFY

MSRP $209.99 On Sale $179.99
Daybeds: Cabana by Southern Textiles

Daybed Ensemble includes:
4-piece Daybed Ensemble (includes Comforter, Bed skirt, and two King shams).

Dimensions:
Comforter 55x97.

A tropical feel with iris and orchid flowers and tiki stripes in vivid colors such as apple red, straw yellow, and fresh green grass.

Size: Twin
UPC: 80JQ400CB

MSRP $269.99 On Sale $229.99
Daybeds: Camel Back by Southern Textiles

Daybed Ensemble includes:
5-piece Daybed Ensemble (includes Comforter, Bed skirt, and 3 standard shams).

Dimensions:
Comforter 55x97.

An ultra-contemporary pattern with a solid camel tan shantung fabric for the comforter, accented by stripes and polka dot accessories in chocolate, and turquoise.

Size: Twin
UPC: 80JQ400CBK

MSRP $209.99 On Sale $179.99
Daybeds: Camp 1830 by Southern Textiles

Daybed Ensemble includes:
4-piece Daybed Ensemble (includes Comforter, Bed skirt, and two King shams).

Dimensions:
Comforter 55x97.

A vibrant cherry red solid comforter with a striped bed skirt of green apple, dark denim blue, sunflower yellow, mandarin orange. Accent pillow features children figurines.

Size: Twin
UPC: 80JQ400CAM

MSRP $209.99 On Sale $179.99
Daybeds: Cosmopolitan by Southern Textiles

Daybed Ensemble includes:
3-piece Daybed Ensemble (includes Comforter, Bed skirt, and a King Euro Sham).

Dimensions:
Comforter 55x97.

A clean, contemporary ensemble with colors such as spiced pumpkin and burnt orange with chocolate faux leather accents.

Size: Twin
UPC: 80JQ400COS

MSRP $209.99 On Sale $179.99
Daybeds: Dynasty Caramel by Southern Textiles

Daybed Ensemble includes:
3-piece Daybed Ensemble (includes Comforter, Bed skirt, and a King Euro Sham).

Dimensions:
Comforter 55x97.

A caramel ensemble with decorative cording and tassels for an exquisite look.

Size: Twin
UPC: 80JQ400DCR

MSRP $209.99 On Sale $179.99
Daybeds: Dynasty Fawn by Southern Textiles

Daybed Ensemble includes:
3-piece Daybed Ensemble (includes Comforter, Bed skirt, and a King Euro Sham).

Dimensions:
Comforter 55x97.

A fawn ensemble with decorative cording and tassels for an exquisite look

Size: Twin
UPC: 80JQ400DFA

MSRP $269.99 On Sale $229.99
Daybeds: Flower Power by Southern Textiles

Daybed Ensemble includes:
4-piece Daybed Ensemble (includes Comforter, Bed skirt, and 2 King Shams).

Dimensions:
Comforter 55x97.

A little girl's dream with lime green and white flowers set with fuchsia accents and stripes in coordinating colors of the same with a splash of lemon meringue.

Size: Twin
UPC: 80JQ400FLP

MSRP $209.99 On Sale $179.99
Daybeds: Hobie by Southern Textiles

Daybed Ensemble includes:
4-piece Daybed Ensemble (includes Comforter, Bed skirt, and 2 King Shams).

Dimensions:
Comforter 55x97.

Red, white, and blue stripes in all cotton give this contemporary ensemble the patriotic feeling of the 4th of July.

Size: Twin
UPC: 80JQ400HOE

MSRP $209.99 On Sale $179.99
Daybeds: Hobie Red by Southern Textiles

Daybed Ensemble includes:
4-piece Daybed Ensemble (includes Comforter, Bed skirt, and 2 King Shams).

Dimensions:
Comforter 55x97.

Red, white, and blue stripes in all cotton give this contemporary ensemble the patriotic feeling of the 4th of July.

Size: Twin
UPC: 80JQ400HRD

MSRP $209.99 On Sale $179.99
Daybeds: Impressions by Southern Textiles

Daybed Ensemble includes:
4-piece Daybed Ensemble (includes Comforter, Bed skirt, and 2 King Shams).

Dimensions:
Comforter 55x97.

An elegant feel with soft scrolled curl designs and diamond shapes in tapestry champagne.

Size: Twin
UPC: 80JQ400IP

MSRP $209.99 On Sale $179.99
Daybeds: Jaguar Onyx by Southern Textiles

Daybed Ensemble includes:
4-piece Daybed Ensemble (includes Comforter, Bed skirt, and 2 King Shams).

Dimensions:
Comforter 55x97.

An exotic leopard print combined with black accent pillows featuring gold cording and tassels.

Size: Twin
UPC: 80JQ400JGO

MSRP $209.99 On Sale $179.99
Daybeds: Jolie Black by Southern Textiles

Daybed Ensemble includes:
4-piece Daybed Ensemble (includes Comforter, Bed skirt, and 2 King Shams).

Dimensions:
Comforter 55x97.

A sophisticated black and off white color scheme that is paired with a classic country check and toile.

Size: Twin
UPC: 80JQ400JOL

MSRP $209.99 On Sale $179.99
Daybeds: Kensington by Southern Textiles

Daybed Ensemble includes:
4-piece Daybed Ensemble (includes Comforter, Bed skirt, and 2 King Shams).

Dimensions:
Comforter 55x97.

A burst of plaids featuring sage green and khaki.

Size: Twin
UPC: 80JQ400KE

MSRP $209.99 On Sale $179.99
Daybeds: Paddock by Southern Textiles

Daybed Ensemble includes:
4-piece Daybed Ensemble (includes Comforter, Bed skirt, and 2 King Shams).

Dimensions:
Comforter 55x97.

A large contemporary paisley print in avocado green and chocolate brown with muted yellow shantung accents and stripes with the same colors combined.

Size: Twin
UPC: 80JQ400PAD

MSRP $209.99 On Sale $179.99
Daybeds: Pasha by Southern Textiles

Daybed Ensemble includes:
4-piece Daybed Ensemble (includes Comforter, Bed skirt, and 2 King Shams).

Dimensions:
Comforter 55x97.

A cottage style floral and paisley combination print detailed design in cranberry red, antique rose pink, and soft green with plaid and striped accents.

Size: Twin
UPC: 80JQ400PSH

MSRP $209.99 On Sale $179.99
Daybeds: Pembrooke by Southern Textiles

Daybed Ensemble includes:
3-piece Daybed Ensemble (includes Comforter, Bed skirt, and a King Euro Sham).

Dimensions:
Comforter 55x97.

A woven ensemble with golden Dijon fabrics and accents with cording and fringe.

Size: Twin
UPC: 80JQ400PK

MSRP $209.99 On Sale $179.99
Daybeds: Ridge Way by Southern Textiles

Daybed Ensemble includes:
4-piece Daybed Ensemble (includes Comforter, Bed skirt, and 2 King Shams).

Dimensions:
Comforter 55x97.

A comfortable casual look consisting of tan and brown tones in ultra-suede and faux leather fabrics.

Size: Twin
UPC: 80JQ400RW

MSRP $209.99 On Sale $179.99
Daybeds: Roslyn by Southern Textiles

Daybed Ensemble includes:
4-piece Daybed Ensemble (includes Comforter, Bed skirt, and 2 King Shams).

Dimensions:
Comforter 55x97.

A gold and iridescent blue ensemble with a floral design on heavy fabric makes this a luxurious addition to any room.

Size: Twin
UPC: 80JQ400RY

MSRP $209.99 On Sale $179.99
Daybeds: Rover by Southern Textiles

Daybed Ensemble includes:
4-piece Daybed Ensemble (includes Comforter, Bed skirt, and 2 King Shams).

Dimensions:
Comforter 55x97.

A large plaid pattern using cappuccino and chocolate brown on a cream background. Accents are in a smaller plaid of the darker brown. Accent pillow has tiny embroidered dogs.

Size: Twin
UPC: 80JQ400ROV

MSRP $269.99 On Sale $229.99
Daybeds: Shayna by Southern Textiles

Daybed Ensemble includes:
4-piece Daybed Ensemble (includes Comforter, Bed skirt, and 2 King Shams).

Dimensions:
Comforter 55x97.

An exotic black and white zebra pattern with fuchsia shantung and baby pink shag accent pillows.

Size: Twin
UPC: 80JQ400SHY

MSRP $209.99 On Sale $179.99
Daybeds: Sierra by Southern Textiles

Daybed Ensemble includes:
4-piece Daybed Ensemble (includes Comforter, Bed skirt, and 2 King Shams).

Dimensions:
Comforter 55x97.

A floral leaf print silhouette with browns, khaki, and crème.

Size: Twin
UPC: 80JQ400SI

MSRP $269.99 On Sale $229.99
Daybeds: Wisteria by Southern Textiles

Daybed Ensemble includes:
5-piece Daybed Ensemble (includes Comforter, Bed skirt, and 3 standard Shams).

Dimensions:
Comforter 55x97.

A cool, floral cottage look with a comforter of crisp yellows, greens, and corals in various textures, highlighted by plaid and striped coordinates.

Size: Twin
UPC: 80JQ400WST

MSRP $269.99 On Sale $229.99
Daybeds: Zest by Southern Textiles

Daybed Ensemble includes:
4-piece Daybed Ensemble (includes Comforter, Bed skirt, and 2 King Shams).

Dimensions:
Comforter 55x97.

A contemporary flair infused with toned colors makes this burnt orange, and antique gold a classic look for this Dick Idol ensemble.

Size: Twin
UPC: 80JQ400ZE

MSRP $209.99 On Sale $179.99