---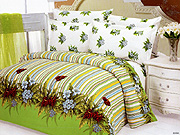 Doga by Le Vele
Doga by Le Vele is a Bed-In-Bag.
Size: King.
Bed Set includes: Package Content and Sizes in Inches:- 1 Fitted sheet 78 x 80 x 17 inch deep- 1 Duvet cover 104 x 92- 2 Pillow cases 20 x 30- 2 Pillow Shams 20 x 30 + 2 inch flange
This great tropical floral pattern and the matching array of stripes with spring colors create the happiest mood. It reverses to white back drop and with symmetrically scattered Wood Forget-me-not flowers.
Fabric: 100% Cotton
Care: Machine Wash - Normal/Cool - No bleach - Tumble Dry
---
MSRP $129.99. On Sale $119.99. Order Quantity:

Fitted Sheets6 Pieces Duvet-cover Bedding Set By Le Vele (Doga)

Size: King

Package Content and Sizes in Inches:- 1 Fitted sheet 78 x 80 x 17 inch deep- 1 Duvet cover 104 x 92- 2 Pillow cases 20 x 30- 2 Pillow Shams 20 x 30 + 2 inch flange
$109.99. Order Quantity:

Full/ Fitted Sheets6 Pieces Duvet-cover Bedding Set By Le Vele (Doga)

Size: Queen

Package Content and Sizes in Inches:- 1 Fitted sheet 60 x 80 x 17 inch deep- 1 Duvet cover 88 x 92- 2 Pillow cases 20 x 30- 2 Pillow Shams 20 x 30 + 2 inch flange