---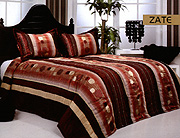 Zate by Le Vele
Zate by Le Vele is a N/A.
Size: Queen %26 Kin.
Bed Set includes: Package Content and Sizes in Inches:- 1 Quilt 102 x 102- 2 Pillow Shams 20 x 30 + 2 inch flange
This innovative light fabric bedcover is designed to suit modern living and creates a unique look in your overall decor. Complementary to the satin duvet a sheer fabric cover exposes the color underneath. Red wine colored with flowers and stripes iridescent organza fabric is layered the over the duvet for a tone-on-tone deep look.
Fabric: 50/50 Cotton/Polyester
Care: Dry Clean
---
MSRP $169.99. On Sale $149.99. Order Quantity:

Queen/kingsatin Bedspread 3 Pcs Set (Zate)

Size: Queen %26 Kin

Package Content and Sizes in Inches:- 1 Quilt 102 x 102- 2 Pillow Shams 20 x 30 + 2 inch flange