---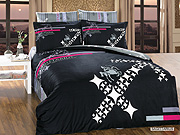 Sagittarius Zodiac by Le Vele
Sagittarius Zodiac by Le Vele is a Bed-In-Bag.
Size: Full/Queen.
Bed Set includes: Package Content and Sizes in Inches:- 1 Flat Bed Sheet 87 x 99- 1 Duvet Cover 80 x 87- 2 Pillow Cases 20 x 30- 2 Pillow Shams 20 x 30 + 2 inch flange
Sagittarius in the Zodiac possess a natural exuberance, with sense of love and adventure, so why not decorate your bedroom and show-off your Sagittarius sign printed on this luxury bedding ensemble.
Fabric: 100% Cotton
Care: Machine Wash - Normal/Cool - No bleach - Tumble Dry
---
MSRP $189.99. On Sale $169.99. Order Quantity:

6 Pieces Duvet Cover Bedding Set By Arya (Sagittarius Zodiac)

Size: Full/queen

Package Content and Sizes in Inches:- 1 Flat Bed Sheet 87 x 99- 1 Duvet Cover 80 x 87- 2 Pillow Cases 20 x 30- 2 Pillow Shams 20 x 30 + 2 inch flange