---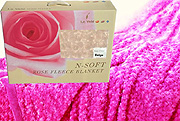 Rose Fleece Blanket by Le Vele
Rose Fleece Blanket by Le Vele is a N/A.
Size: Full/Queen.
Bed Set includes: 1 x Rose Fleece Blanket
The Rose Effect Fleece Blankets are the softest blankets you can find. A new type of Fleece adopted from the latest processing techniques called N-SOFT has excellent characteristics of hygroscopicity and air permeability.You will be amazed with the comfort and beauty you will experience with these special blankets.
Fabric: Thin Polyester Fiber
Care: Machine Wash - Normal/Cool - No bleach - Tumble Dry
---
MSRP $139.99. On Sale $129.99. Order Quantity:

Rose Effect Blanket (Rose Fleece Blanket)

Size: Full/queen

1 x Rose Fleece Blanket
MSRP $129.99. On Sale $119.99. Order Quantity:

Rose Effect Blanket (Rose Fleece Blanket)

Size: Twin

1 x Rose Fleece Blanket
MSRP $139.99. On Sale $129.99. Order Quantity:

Rose Effect Blanket (Rose Fleece Blanket)

Size: Full/queen

1 x Rose Fleece Blanket
MSRP $129.99. On Sale $119.99. Order Quantity:

Rose Effect Blanket (Rose Fleece Blanket)

Size: Twin

1 x Rose Fleece Blanket
MSRP $139.99. On Sale $129.99. Order Quantity:

Rose Effect Blanket (Rose Fleece Blanket)

Size: Full/queen

1 x Rose Fleece Blanket
MSRP $129.99. On Sale $119.99. Order Quantity:

Rose Effect Blanket (Rose Fleece Blanket)

Size: Twin

1 x Rose Fleece Blanket
MSRP $139.99. On Sale $129.99. Order Quantity:

Rose Effect Blanket (Rose Fleece Blanket)

Size: Full/queen

1 x Rose Fleece Blanket
MSRP $129.99. On Sale $119.99. Order Quantity:

Rose Effect Blanket (Rose Fleece Blanket)

Size: Twin

1 x Rose Fleece Blanket
MSRP $139.99. On Sale $129.99. Order Quantity:

Rose Effect Blanket (Rose Fleece Blanket)

Size: Full/queen

1 x Rose Fleece Blanket
MSRP $129.99. On Sale $119.99. Order Quantity:

Rose Effect Blanket (Rose Fleece Blanket)

Size: Twin

1 x Rose Fleece Blanket
MSRP $139.99. On Sale $129.99. Order Quantity:

Rose Effect Blanket (Rose Fleece Blanket)

Size: Full/queen

1 x Rose Fleece Blanket
MSRP $129.99. On Sale $119.99. Order Quantity:

Rose Effect Blanket (Rose Fleece Blanket)

Size: Twin

1 x Rose Fleece Blanket
MSRP $139.99. On Sale $129.99. Order Quantity:

Rose Effect Blanket (Rose Fleece Blanket)

Size: Full/queen

1 x Rose Fleece Blanket
MSRP $129.99. On Sale $119.99. Order Quantity:

Rose Effect Blanket (Rose Fleece Blanket)

Size: Twin

1 x Rose Fleece Blanket
MSRP $139.99. On Sale $129.99. Order Quantity:

Rose Effect Blanket (Rose Fleece Blanket)

Size: Full/queen

1 x Rose Fleece Blanket
MSRP $129.99. On Sale $119.99. Order Quantity:

Rose Effect Blanket (Rose Fleece Blanket)

Size: Twin

1 x Rose Fleece Blanket
MSRP $139.99. On Sale $129.99. Order Quantity:

Rose Effect Blanket (Rose Fleece Blanket)

Size: Full/queen

1 x Rose Fleece Blanket
MSRP $129.99. On Sale $119.99. Order Quantity:

Rose Effect Blanket (Rose Fleece Blanket)

Size: Twin

1 x Rose Fleece Blanket
MSRP $139.99. On Sale $129.99. Order Quantity:

Rose Effect Blanket (Rose Fleece Blanket)

Size: Full/queen

1 x Rose Fleece Blanket
MSRP $129.99. On Sale $119.99. Order Quantity:

Rose Effect Blanket (Rose Fleece Blanket)

Size: Twin

1 x Rose Fleece Blanket
MSRP $139.99. On Sale $129.99. Order Quantity:

Rose Effect Blanket (Rose Fleece Blanket)

Size: Full/queen

1 x Rose Fleece Blanket
MSRP $139.99. On Sale $129.99. Order Quantity:

Rose Effect Blanket (Rose Fleece Blanket)

Size: Full/queen

1 x Rose Fleece Blanket
MSRP $129.99. On Sale $119.99. Order Quantity:

Rose Effect Blanket (Rose Fleece Blanket)

Size: Twin

1 x Rose Fleece Blanket
MSRP $139.99. On Sale $129.99. Order Quantity:

Rose Effect Blanket (Rose Fleece Blanket)

Size: Full/queen

1 x Rose Fleece Blanket
MSRP $129.99. On Sale $119.99. Order Quantity:

Rose Effect Blanket (Rose Fleece Blanket)

Size: Twin

1 x Rose Fleece Blanket