---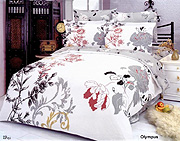 Olympus by Le Vele
Olympus by Le Vele is a Bed-In-Bag.
Size: Full/Queen.
Bed Set includes: Package Content and Sizes in Inches:- 1 Flat Bed Sheet 87 x 99- 1 Duvet Cover 80 x 87- 2 Pillow Cases 20 x 30- 2 Pillow Shams 20 x 30 + 2 inch flange
Abstract floral patterns with shades of burgundy, gray, black and gold on white reverse to an all gray backdrop of matching prints and create a unique effect of a multi-dimensional setting for the sophisticated bedroom.
Fabric: 100% Cotton
Care: Machine Wash - Normal/Cool - No bleach - Tumble Dry
---
MSRP $159.99. On Sale $139.99. Order Quantity:

6 Pieces Duvet Cover Bedding Set By Le Vele (Olympus)

Size: Full/queen

Package Content and Sizes in Inches:- 1 Flat Bed Sheet 87 x 99- 1 Duvet Cover 80 x 87- 2 Pillow Cases 20 x 30- 2 Pillow Shams 20 x 30 + 2 inch flange
MSRP $129.99. On Sale $119.99. Order Quantity:

Fitted Sheets6 Pieces Duvet-cover Bedding Set By Le Vele (Olympus)

Size: King

Package Content and Sizes in Inches:- 1 Fitted sheet 78 x 80 x 17 inch deep- 1 Duvet cover 104 x 92- 2 Pillow cases 20 x 30- 2 Pillow cases 20 x 36 + 2 inch flange