---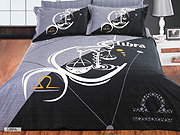 Libra Zodiac by Le Vele
Libra Zodiac by Le Vele is a Bed-In-Bag.
Size: Full/Queen.
Bed Set includes: Package Content and Sizes in Inches:- 1 Flat Bed Sheet 87 x 99- 1 Duvet Cover 80 x 87- 2 Pillow Cases 20 x 30- 2 Pillow Shams 20 x 30 + 2 inch flange
Libra is the sing in Zodiac seeking to find love with the Prince or Princess of their dreams. Now is your perfect opportunity to decorate your bedroom and show-off your Libra sign printed on this luxury bedding ensemble.
Fabric: 100% Cotton
Care: Machine Wash - Normal/Cool - No bleach - Tumble Dry
---
MSRP $189.99. On Sale $169.99. Order Quantity:

6 Pieces Duvet Cover Bedding Set By Arya (Libra Zodiac)

Size: Full/queen

Package Content and Sizes in Inches:- 1 Flat Bed Sheet 87 x 99- 1 Duvet Cover 80 x 87- 2 Pillow Cases 20 x 30- 2 Pillow Shams 20 x 30 + 2 inch flange