---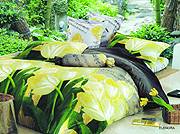 Eleanor by Le Vele
Eleanor by Le Vele is a Bed-In-Bag.
Size: Twin.
Bed Set includes: Twin Package Content and Sizes in Inches:- 1 Bed Sheet: 71 x 96- 1 Duvet Cover: 63 x 87- 1 Pillow Case: 20 x 30- 1 Pillow Sham Flanged: 20 x 30 + 2inch flange
Wake up to refreshing feeling of a botanical garden surrounding and hear the musical notes. This illusion can be easily created in your bedroom with this quality duvet bedding assemble. Yellow tulips with bright green stems and leaves that reverses to light gray with musical notes.
Fabric: 100% Cotton
Care: Machine Wash - Normal/Cool - No bleach - Tumble Dry
---
MSRP $129.99. On Sale $119.99. Order Quantity:

4 Pieces Duvet Cover Bedding Set By Arya (Eleanor)

Size: Twin

Twin Package Content and Sizes in Inches:- 1 Bed Sheet: 71 x 96- 1 Duvet Cover: 63 x 87- 1 Pillow Case: 20 x 30- 1 Pillow Sham Flanged: 20 x 30 + 2inch flange
MSRP $169.99. On Sale $149.99. Order Quantity:

6 Pieces Duvet Cover Bedding Set By Arya (Eleanor)

Size: Full/queen

Package Content and Sizes in Inches:- 1 Flat Bed Sheet 87 x 99- 1 Duvet Cover 80 x 87- 2 Pillow Cases 20 x 30- 2 Pillow Shams 20 x 30 + 2 inch flange
MSRP $229.99. On Sale $209.99. Order Quantity:

Fitted Sheets6 Pieces Duvet-cover Bedding Set By Arya (Eleanor)

Size: King

Package Content and Sizes in Inches:- 1 Fitted sheet 78 x 80 x 10 inch deep- 1 Duvet cover 104 x 92- 2 Pillow cases 20 x 30- 2 Pillow Shams 20 x 30 + 2 inch flange