---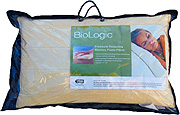 Biologic Memory Foam Pillows by Le Vele
Biologic Memory Foam Pillows by Le Vele is a Memory Foam.
Size: ALL.
Bed Set includes: Package Content and Sizes:1 x BioLogic Pillow 20 inch x30 inch
The BioLogic pillows with traditional pillow shape are fluffable and impressionable for extra personalized comfort. They relieve muscle fatigue and tension and support all sleeping positions. These pillows cradle your head and neck to reduce pressure points. The patented design of this luxurious pillow features a super conforming inner sleeve liner and an encased second layer of memory foam.
Fabric: Memory Foam
Care: Comes with a removable, washable and allergen resistant outer lining cover.
---
$59.99. Order Quantity:

Memory Foam Pillows (Biologic Memory Foam Pillows)

Size: All

Package Content and Sizes:1 x BioLogic Pillow 20 inch x30 inch