---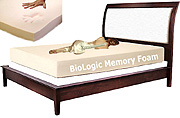 Biologic Memory Foam Mattress by Le Vele
Biologic Memory Foam Mattress by Le Vele is a N/A.
Size: Twin.
Bed Set includes: Package Content and Sizes:1 x BioLogic Mattress 39 inch x75 inch x 10inch
The BioLogic memory foam mattress consists of high density proprietary material that creates a luxurious deep sleep experience. The patented design of this luxurious mattress features a super comforting outer sleeve of foam on top of an second encased layer of memory foam giving it superior advantage over other memory foam mattresses.
Fabric: Memory Foam
Care: N/A
---
MSRP $379.99. On Sale $339.99. Order Quantity:

Size Memory Foam Mattress (Biologic Memory Foam Mattress)

Size: Twin

Package Content and Sizes:1 x BioLogic Mattress 39 inch x75 inch x 10inch
MSRP $459.99. On Sale $409.99. Order Quantity:

Size Memory Foam Mattress (Biologic Memory Foam Mattress)

Size: Full

Package Content and Sizes:1 x BioLogic Mattress 54 inch x 75 inch x 10inch
MSRP $479.99. On Sale $429.99. Order Quantity:

Size Memory Foam Mattress (Biologic Memory Foam Mattress)

Size: Queen

Package Content and Sizes:1 x BioLogic Mattress 60 inch x 80 inch x 10inch
MSRP $589.99. On Sale $529.99. Order Quantity:

Standard Size Memory Foam Mattress (Biologic Memory Foam Mattress)

Size: King

Package Content and Sizes:1 x BioLogic Mattress 78 inch x80 inch x 10inch