Irish Bed Linen is a natural fabric produced from fibres of the flax plant. The plant is sown in April, produces the delicate violet blue flower in June, and is harvested in August. After pulling (not cutting) the flax is laid out in the fields to ret, a process by which the woody bark is naturally rotted so that the fibres come loose from the main stem.

The seeds are removed and used in the manufacture of linseed oil, while the bark is used in the making of chipboard, having been removed in the scutching process.

Fibres are hackled (combed) to separate long line and short tow fibres. Line fibres are usually drafted and doubled, and given a light twist before undergoing the wet spinning process. Line fibres produce fine, strong yarn, Short tow fibres are dry spun and a heavy, coarse yarn results, ideal for use as finishing fabrics, heavier apparel and knitwear.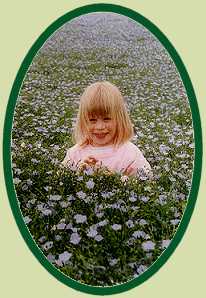 Weaving is an ancient craft which has been revolutionised by technology. CAD systems now allow designs to be turned round at great speed. High speed, computer controlled looms are operated under the watchful eyes of experienced weavers, giving an ideal blend of automation and manual skill. Fergusons is now using its 12th generation of CAD since 1979, which shows the pace at which this field has, and continues to change.
Finishing linen is a complicated and evolving process. A wide variety of treatments can product a wide range of finishes, for example the crisp of Linen Damasks for the table, or the cool comfort of Plain Bed Linen. Of course the full spectrum of colours can also be dyed.