Bed Linens, Bedding Ensembles, Bath Accessories, Comforters, Bedspreads, Duvet Covers, Luxury Bedding, Veratex Bedding, Kids Linens
Bed Linens - Bedspreads - Comforters - Duvet Covers - Colorful History
---
There are numerous references to Linens in the Bible. These include a description of King Solomon's temple, in which the Ark of the Covenant is said to be kept behind a screen of gold embroidered Linens.

Linens fabric was first woven just prior to the 3rd Millennium B.C.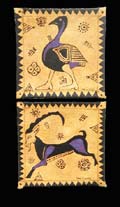 Linens mummy cloths (shrouds) have been identified as being over 4500 years old. Due to it's natural ph balance Linens is perfect as a preservation fabric.
One of the things that remain mystery is how the Egyptians find out about it...
One acre of the flax plant will produce approximately one ton of Linens yarn


Linen is stronger when wet than dry. The weaving environment must always be warm and humid to ensure the yarn is at it's strongest during manufacturing. Linen is also therefore stronger when being washed, resulting in greater longevity than, for example, cotton.

The finest flax is grown in France and Belgium. When harvested, the flax is pulled up rather than cut. In order to keep the stalks as long as possible. It is bound in bundles to be processed.

The subtle intensity of the violet blue flax flower is a sign of the finest fibres. Other varieties of flax have a pinkish - white blossom and produce poorer fibres and yarns.

In the 20th Century, linen among other things played a vital role in both World Wars. It was used to make rope, net, twine, hosepipes, sailcloth, canvas, blackout sheets, tents, aeroplane wings and fuselage covering.

The word 'spinster', meaning single women, comes from the days when flax was spun on spinning wheels, by spinsters. Spinsters were usually young single women looking for a husband.

Linen breathes, just like skin. In hot weather it absorbs moisture and excessive heat, and feels as light as a feather on the body. In cooler weather, it retains body heat.
More info can be read at http://www.pagelinx.com/ulsterlinen/3.htm